This post first appeared on Mr. Schersten's Blog
Hour of Code
week started today. As an elementary Technology Integration Specialist, I know I want my students exposed to programming. The questions is, how low do I go? This year, I went all the way down to kindergarten.
Given the potentially short attention span of kindergartners, I shortened the
Hour of Code
to
45 Minutes of Code.
I loaded the free
Lightbot: Code Hour
app onto a cart of iPads and headed down to the kindergarten wing. I like the Lightbot app a lot becuase the coding blocks are all symbols. For my younger kindergartners who are still learning to read, this levels the playing field. (This also makes Lightbot a great intro-to-coding app for my ELL students.)
I started the

lesson talking about computers in general. In addition to being in things like laptops and iPads, they are in phones, microwaves, coffee makers, traffic lights, etc. Computers are, literally, all around us. Because of that, it's important to have some idea of how they work, how to make them do what we want them to do. That conversation brought us to Lightbot.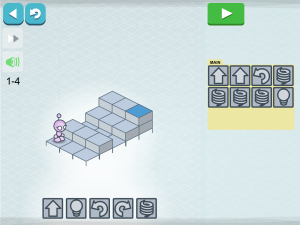 We completed the first four challenges in Lightbot together, up on the projector screen. We explored the command blocks and what they did. We made some mistakes (turning is a particularly tricky concept for 5-year-olds to master) and learned from them – which is exactly what I wanted to have happen. Then I turned them loose on Lighbot on their own.
I asked the kids to start by going back and doing the 4 challenges we did together, on their own. Some moved through those challenges quickly, others took more time. Ultimately, they progressed further in the app than we had gone as a whole group – completing tasks they never saw with me. And at the end of my 45 minute block (with about 25 minutes of them coding on their own) we cleaned up. Or tried to; the problem was that the kids weren't ready. They were totally engaged. They were getting stuck, and having to work through mistakes, but at no point did anyone say, "I don't want to do this anymore." When my 45 Minutes of Coding ended, they wanted to keep coding.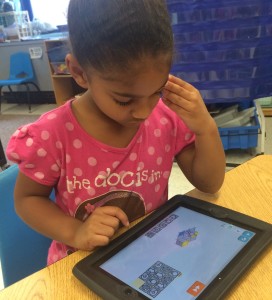 They did a great job, and I'm excited to put iPads back in those rooms with Lightbot still loaded. Maybe it can become a center for them. The computational and positional thinking that are involved are great. And no matter what anyone says, kindergartners can code.