Teaching students how to search effectively is essential. But letting an elementary student loose on Google makes a lot of people nervous (which is okay). School filters are good, but they aren't perfect (which is also okay, but that's another post altogether). A GoogleCustom Search Engine is a great compromise. It allows students to use the Google search engine, but it also allows you to limit the webpages and websites that are used for the results. And best of all, creating a Custom Search Engine is easy.
Look for the blue bottom that says, "Create custom search engine."

If you're not logged into a Google account, the blue button will ask you to sign in first.
Second, you need to add the websites you want your Custom Search Engine to use. Every time you add a new site, an additional box will appear for you to add another. In my example I've added some sites with good information on planets.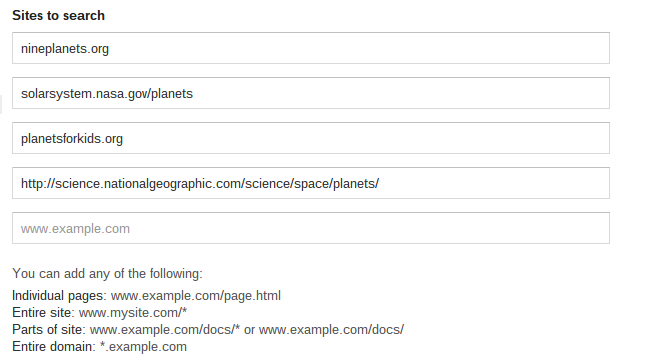 Next, you name the search engine.

Finally, find the blue "Create" button.
That's it! It's ready to go. You just need to get your students to the search page.