This post originally appeared on Ben's Blog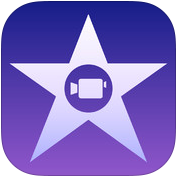 Many teachers have used the iMovie Trailer function to make book trailers. But what do we do with them? How do we make sure those trailers last? How do we make sure students, lots of students, see those trailers? How do we make sure students use those trailers to help them choose books they'll like (because that's really the point of a trailer)?
QR Codes!
Okay, first, I don't
love
QR codes; I know some teachers
adore
them. I think they have limited use, but this is definitely one of them.
Once you make your trailer, put it in a public place on the web. We're a Google Apps for Education (GAFE) district, so we put them in drive and then made them
public to anyone with the link
. Then create a QR code for the movie (we used the
QRafter
app and the
QRStuff
site). Then head to library and put that QR code on
every copy of the book
. Now, when students go to the library (we're a 1:1 iPad district) they can scan the QR code and see a visual trailer for the book created by a student (in addition to the blurb on the back). If books are going to be displayed cover-out, put a copy of the QR code on the front too.
And (this is the best part), the movie file is stored in a stable place in the cloud. So as my elementary school students who created the trailers move through middle and high school the trailer will still be sitting in their Google Drive available for younger students to see it. Five or more years from now, students will be watching the trailers we created this year!
Our students do great work; make sure it isn't lost when summer arrives. Help them create a legacy.
Note
: I've written about iMovie trailers before.
Here is a post
with single-page, printable storyboards for all the trailer themes.
Here is a post
about using trailers as a way for students to introduce themselves to next year's teacher. And
here is a post
about moving beyond trailers and getting into iMovie projects.